Portes à grande vitesse en spirale en aluminium
| | |
| --- | --- |
| Prix ​​unitaire: | 2000~4000 USD |
| Quantité de commande minimum: | 1 Set/Sets |

| | |
| --- | --- |
| Détails d'emballage: | Ensemble de boîte en bois d'objectif d'exportation |
| productivité: | 1000 sets per month |
| marque: | Porte kenvo |
| transport: | Ocean,Land,Air,Express |
| Lieu d'origine: | CHINE |
| Capacité d'approvisionnement: | 2000 sets per month |
| Certificats : | ISO9001 |
| Code SH: | 7308300000 |
| Hafen: | Shanghai,Ningbo,Taicang |
Description du produit
Les portes de roulement à grande vitesse en spirale en aluminium sont le modèle le plus haut de gamme de toutes les portes à rouleaux rapides. Il est fabriqué à partir d'un panneau de sandwich en aluminium à isolation forte et thermique, et avec une même vitesse de course élevée que les portes à grande vitesse en PVC ordinaires. Le rail de porte est spécialement fabriqué en spirale, pour les panneaux qui se déplacent en douceur de haut en bas. Une telle porte rapide en spirale présente des avantages complets, notamment une vitesse de course rapide, une isolation thermique, une excellente résistance au vent et une résistance à l'épreuve des cambrioleurs. C'est le meilleur choix pour l'usine de haut niveau, l'entrepôt, les garages et les bâtiments commerciaux. Il peut être installé à la fois des emplacements extérieurs ou intérieurs.
La porte à grande vitesse est un type de porte roulante automatique conçue pour s'ouvrir et fermer très rapidement, largement utilisée dans les usines et entrepôts modernes. Il peut fonctionner à grande vitesse et à la fréquence, très adapté aux zones avec un trafic intense. Il améliore l'efficacité de la manutention des matériaux. D'un autre côté, le débit d'air et la conduction thermique à travers la porte sont évidemment réduits, pour garder le propre, l'hygiène et la température à l'intérieur de la pièce. Le fonctionnement automatique est réalisé avec le système de contrôle programmé et les capteurs.



High speed running

The opening speed can reaches up to 2.0m/s. And the closing speed can reaches up to 1.0m/s. This means that the door can finish a cycle of opening and closing within in

several seconds. It bring several major benefits:

Improve work efficiency:

Workers or forklifts will no need wait in front of the door and can directly go across it. The material handling speed is higher by at least 5 times than tradional roll up doors;

Keep clean and hygiene:

The fast running reduces the open time to only seconds in a cycle of passing the door. Thus much less outside air and dust will enter the room;

Keep temperature:

Heat loss is reduced by large by reducing open time.




High frequency working

The motor is frequency motor, and control panel is frequency inverter system. It can change work power output gently. So the door can start and stop in a soft process. Its running speed will accelerate or decelerate gradually. This can avoid overriding and over-heating caused by constant up and down. So the door can keep running and no need worry its motor burnt or structure damaged.

Our door can run up to 2000 times per day. This is why it is a best choice for busy area with heavy traffic like forklifts or passing workers. Our door can run up to 2000 times per day. This is why it is a best choice for busy area with heavy traffic like forklifts or passing workers.
Thermal insulated and high strength

The door slat is made from double skin aluminum sheet filled with high density PU foam. Total thickness reaches 43mm.

Good thermal insulation:

Special cold-bridge design, cutting off the heat transmission route. It can help keep temperature inside the room;

High wind-resistance:

benefiting from its aluminum material and reinforcing curving design, the door can windstand wind up to 120km/h;

Safety protection:

it can prevent outside people and protect the warehouse from theft and robbery.




Smooth running

Our guide rail is a Archimedes spiral. It is the line of points corresponding to the locations over time of a point moving away from a fixed point with a constant speed along a line that rotates with constant angular velocity.

With such a spiral guide rail, our doors can move very smooth in a constant speed. This reduces the friction and obstruction during coiling and improves the work life.
Longer work life with lower maintenance

Advanced Italy servo technology drive motor and control system. Compared with traditional door system in the market, it has several advantages:

Double encoders:

They calibrate with each other, to make running limit more accurate than tradtional limit sensors. This completely avoid running limits error and reduce maintenance. And even if one encoder is damaged, you can switch to another encoder and the door will continue to work well, no need repair;

Absolute encoder:

outside encoder is advanced absolute encoder. It will always keep the set limits even during power failure. So you no need bother to do the frequent job of re-seting the limits;

Flexile Torque Control System:

The output torque of motor keeps changing according to running speed and load automaticlaly. This avoid over-heating and over-load after long time use, and make sure the door

work longer life.




User freindly Human-machine interface system

There is a LED display on the controller, showing all parameters and setting steps in English language. You can set or change any parameters like using a mobile phone. So you will feel very easy and comfortable to use the doors even you do not have any experience.

And it is inbuilt with Fault-shooting program. The display will show the error information when there is some problem.

There are addtional input and output signals in the controller. You can activate it by the screeen and the door will work together with your production line, robots, conveyor, or other machines.



Various Colors

We supply six different colors for your choice. You can make a free selection among them. Our doors can integrate into your whole building design and make the building harmony and beautiful.

①Grey, ② Red, ③ Orange, ④ Champagne,

⑤ Yellow, ⑥ White, ⑦ Blue, ⑧ Silver, ⑨ Coffee

Transparent windows can be made at human eye height. Its material is polycarbonate window with ultroviolet sunlight-resist. This makes it easy to see what is happening at

another side of the door. It will be more safe for a busy area with moving workers and forklifts or other vehicles.




Multiple safety protection

Considering the high speed running of the door, safety protection become very important to avoid possible accidents. This can not be neglected when using such high performance doors. There are three safety protection devices:

Safety photo sensor:

The sensor can send a infrared light beam from one side to another. When it is blocked by passing human or vehicles, the door will immediately stop or get up. Thus it aims to avoid accident;

Safety airbag sensor:

It is a soft rubber airbag at the bottom. If something touches the bottom, the door will stop or get up. So it aims to stop accident once it happens;

Alarm lamp:

It gives out light flash signal or sound signal when the door running. Passing workers or vehicles can easily get aware that the door is working and take special care to avoid accidents.
Various shape to fit your project site

In some cases, you may find it difficult to install a standard spiral door in your area. The ceiling is not high enough, or there are some objects like water pipe or cable tubes passing by. There is not enough head rom to place the top body. To solve this problem, we expand the design of guide rails, and offer three options.

Standard spiral:

Archimedes spiral, first choice, for enough top space;

Oval spiral:

for limited space but above 500mm space

Low-lintel rail:

for very limited top space less than 500mm;

Manual opening device for emergency use

Each door will have a manual opening device fixed on its side frame. If there is power failure, pull up the manual device, and the door will open itself for some height, for emergency opening.
Diverses méthodes d'opération

Boutons de commande murale (standard)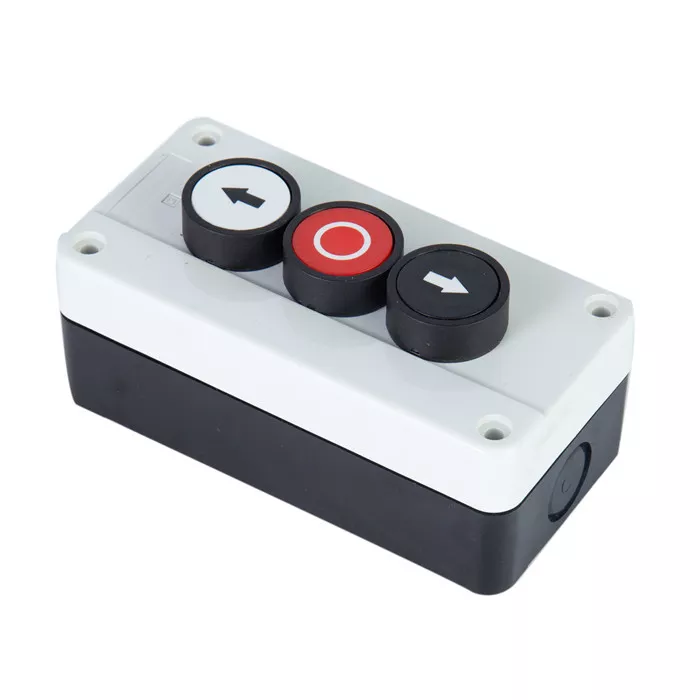 Radar à télécommande Capteur de véhicule de véhicule Détecteur de traction du détecteur:
Données techniques:
Applicable location:

both interior and exterior

Max dimension:

8000mm wide*7000mm high

Max opening Speed:

2.0m/s

Max closing speed:

1.0m/s

Wind resistance:

Beaufort scale 10 (25m/s)

Power supply:

1-phase 220±10%V,50/60HZ, or 1-phase 380±10%V,50/60HZ

Protection level of electric:

IP55

Available colors of fabric:

Silver, Yellow, Blue, Red, Grey, White, Clear

Door panel:

43mm thick sandwich panel filled with polyurethane of density 48kg/m³

Frame material:

Powder coated galvanized steel, optional for 304 stainless steel

Lifting way:

Standard spiral (950mm+ space); Oval spiral (650mm+ space)

;

Oval
SHANGHAI KENVO DOOR CO.,LTD
Créée en 1995, Kenvo est l'un des premiers fabricants professionnels de portes industrielles sur le marché chinois. Nos portes sont largement utilisées dans l'industrie des aliments et des boissons, de l'industrie pharmaceutique, de l'industrie chimique, de l'industrie électronique, de l'industrie des machines, de l'industrie de la logistique, de l'agriculture moderne et du bâtiment commercial. Les lignes de produits comprennent des portes à grande vitesse, des portes en coupe aérienne, des portes d'obturation à rouleaux, des niveaux de quai, des abris de quai, des portes de la chambre froide, des portes de la chambre propre, des portes de circulation et des portes coulissantes.
Nom de la compagnie: SHANGHAI KENVO DOOR CO.,LTD
représentant: ZHENDONG KONG
Produit / Service: Portes à grande vitesse , Portes en coupe , Portes aériennes , Portes d'obturateur à rouleaux , Docker , Porte de la chambre froide
Capital: 5,000,000RMB
Année d'Etablissement: 1997
Volume total annuel des ventes (en millions de US $): US$10 Million - US$50 Million
Pourcentage des exportations: 51% - 60%
Total volume d'achat annuel (en millions de US $): US$5 Million - US$10 Million
Nombre de Lignes de Production: 8
NombrNombre du Personnel de R&e du Personnel de R&D: 11 -20 People
Nombre du Personnel de QC: 5 -10 People
Service d'OEM fourni: yes
Superficie de l'Usine (mètre carré): 5,000-10,000 square meters
Adresse de l'Usine: No.53 Factory, Taowan Road, Industrial Park of Shaxi Town, Taicang, China 215421
Personne À Contacter: Mr. Eric
Numéro De Téléphone: 86-512-53218876